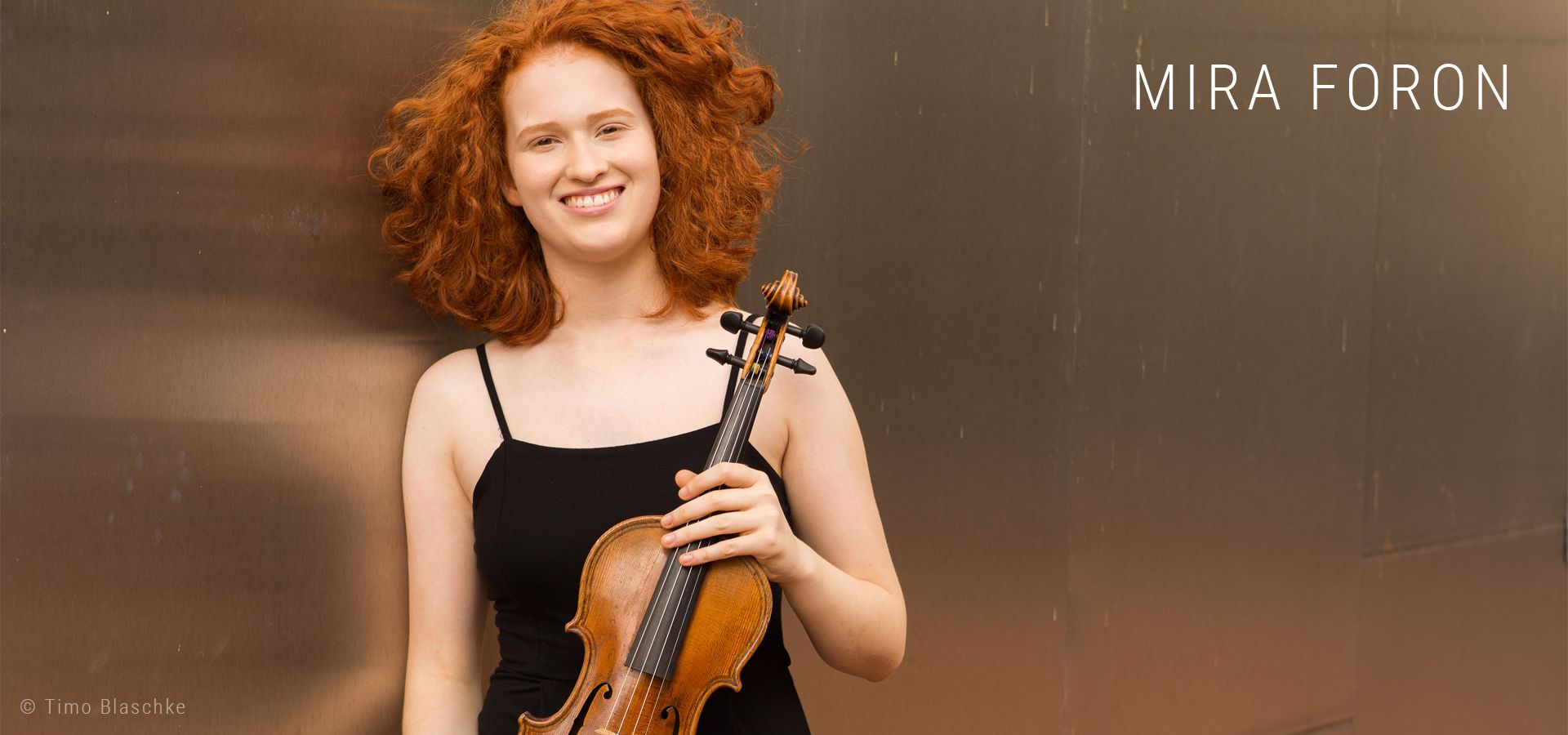 Mira Foron, violin
Opening Concert 28th of July – 16.30
The 16-year-old Violinist Mira Foron was born in 2002 into a musical family in Stuttgart, Germany. Both of her parents are professional musicians and her older brother is the prodigious conductor and pianist Nicolò Umberto Foron. Mira regularly performs as a violin piano duo together with Nicolò.
She began playing the violin at the age of five, since the age of seven she has been active on the international concert stage as a recitalist and soloist with orchestras in major repertoire works that include the concerti of Mendelssohn, Mozart, Saint-Saëns, Sibelius and Tchaikovsky.
Mira has studied at the University of Hannover and the University of the Arts in Essen. Since 2015 she studies at the University of Music in Detmold, Germany. Besides these studies, she participated in masterclasses with Zakhar Bron, Josef Rissin and Frank Peter Zimmermann.
Mira is the first prize-winner of several national and international competitions including the XX International Violin Competition Postacchini in Italy, the IX International Competition Premio Città di Padova in Italy, the International Competition la Flame in France and the 2014 Düsseldorf Anton Rubinstein Competition in Germany. In 2016 she participated in the Jugend Musiziert Bundeswettbewerb in Germany and was the winner with maximum vote share.
German WDR Television and WDR 5 Radio have broadcast short documentaries on her life as a young musician.
Mira is the winner of the 2016 Swiss Charity Award and as the recipient of the award, she made her début with Mendelssohn's Violin Concerto in E Minor, Op. 6 in the Great Hall of the Tonhalle in Zürich, Switzerland.
In 2017, Mira was invited by Anne Sophie Mutter – a four-time Grammy winner – to join the Mutter´s Virtuosi at her anniversary concert at the Salzburger Festspiele and the Festspielhaus Baden. In the same year Mira played the Violin Concerto by Jean Sibelius in Gelsenkirchen and Nordhorn and Mozart Violin Concerto nr 3 at the rising star festival Basel.
Early 2018, Mira took part in the chamber music festival music together at Kronberg Academy. She played the violin concerto of Sibelius with the Hagen Philharmonic Orchestra. And in January 2019 she is invited by Marcus Bosch to perform the violin concerto of Tchaikovsky with Rostock Philharmonic Orchestra.
Since March 2015 Mira plays a violin of the Deutsche Stiftung Musikleben.