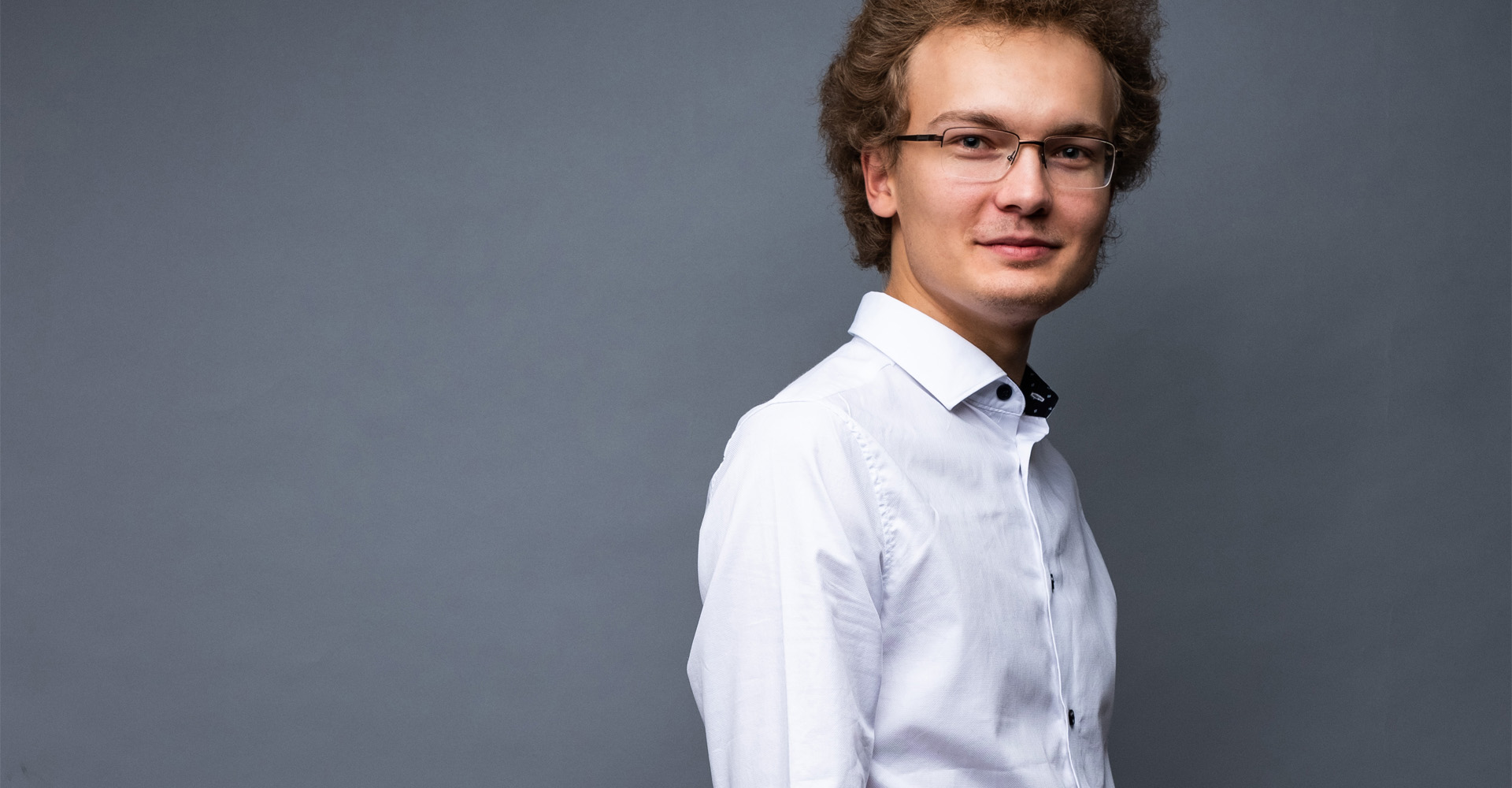 © Elza Zherebchuk, Vere Music Fund
Dmytro Udovychenko, violin
Roman Lopatynskyi, klaver
8. august kl. 19.30
Ukrainian violinist Dmytro Udovychenko was born in Kharkiv in 1999. He studied at the Special Music School affiliated with Kharkiv Music Academy for exceptionally gifted children with Ludmila Varenina. During his school years Dmytro was awarded numerous prizes at international competitions and was invited to perform at international festivals.
At the age of 14 Dmytro Udovychenko was admitted in the class of Professor Boris Garlitsky at the Folkwang University of Arts in Essen, Germany.
His success at the international competitions continued with victories at Jascha Heifetz International Violin Competition in Vilnius, Odesa International Violin Competition in Odesa, and The Grand Prix of 2018 Andrea Postacchini Competition in Fermo.
In October 2018, Dmytro Udovychenko has won the 2nd Prize, the Audiences Prize and the Internet Community Prize at Josef Joachim Competition in Hannover.
Most recently, Dmytro was awarded the 3d Prize at the XII Jan Sibelius International Violin Competition and finally, the 1st Prize at the III Singapore International Violin Competition.
Dmytro participated in master classes with Ana Chumachenko, Christian Tetzlaff, Dmitri Sitkovetsky, Stephan Picard, Leonidas Kavakos.
He is supported by Ukrainian VERE MUSIC FUND,Villa Musica Rheinland Pfalz, and Deutsche Stiftung Musikleben.
In October 2022 Dmytro was accepted to Kronberg Academy Professional Studies Program in the class of Christian Tetzlaff.
Currently Dmytro Udovychenko is playing Giovanni Baptista Guadagnini "Ex Kingman" 1769 Violin kindly provided by Deutsche Stiftung Musikleben.
Roman Lopatynskyi was born in Kiev in 1993. As a laureate of over 20 international piano competitions, such as Hamamatsu International Piano Competition, Busoni Competition in Bolzano, Italy and V. Horowitz" International Piano Competition in Kyiv, Artur Rubinstein International Piano Master Competition, he is one of Ukraine's most prominent and aspiring young pianists. Roman Lopatynskyi is member of the Heidelberg Festival Academy 2017.
He is a regular guest of renowned international concert halls and festivals such as Ginza Hall, Tokyo, Steinway Hall, New York, the Mariinsky International Piano Festival, St. Petersburg, the Next Generation Festival in Bad Ragaz, Switzerland, the Festival Heidelberger Frühling and shared successful collaborations with the National Symphony Orchestra and the National Philharmonic of Ukraine, the Tokyo Symphony Orchestra, the German Radio Philharmonic Saarbrücken, Arena di Verona Orchestra and the Filarmonica del Teatro Comunale di Bologna. He also had a debut in Musikverein and Konzerthaus, Vienna.
Roman Lopatynskyi started to play the piano at the age of five and already won his first special price, the Silber Bell Ukraine, after three years. In 2009 the young pianist entered the class of Boris Petrushansky at the International Academy Incontry col Maestro in Italy. In the same year, he started studying with Sergii Riabov at the Tchaikovsky National Music Academy of Ukraine.
His some the last prizes :
• 1st Prize at the 6 Siegfried-Weishaupt Klavierwettbewerbs ISAM 2016, Ochsenhausen
• 3rd Prize at the German Piano Open competition, Hannover
• 1st Prize at the Luciano Luciani piano competition , Cosenza
• 2nd Prize at the Verona piano competition, Verona
• 1st Prize at the "Russian Piano Music" International Piano Competition, Sanremo
• 2nd Prize at the International Piano Competition Spanish Composers, Las Rozas De Madrid
• 3rd Prize at the International piano competition "A. Scriabin"
• Laureate of « Artur Rubinstein International Piano Master Competition »
• 2nd Prize at the Ferrol International Piano Competition