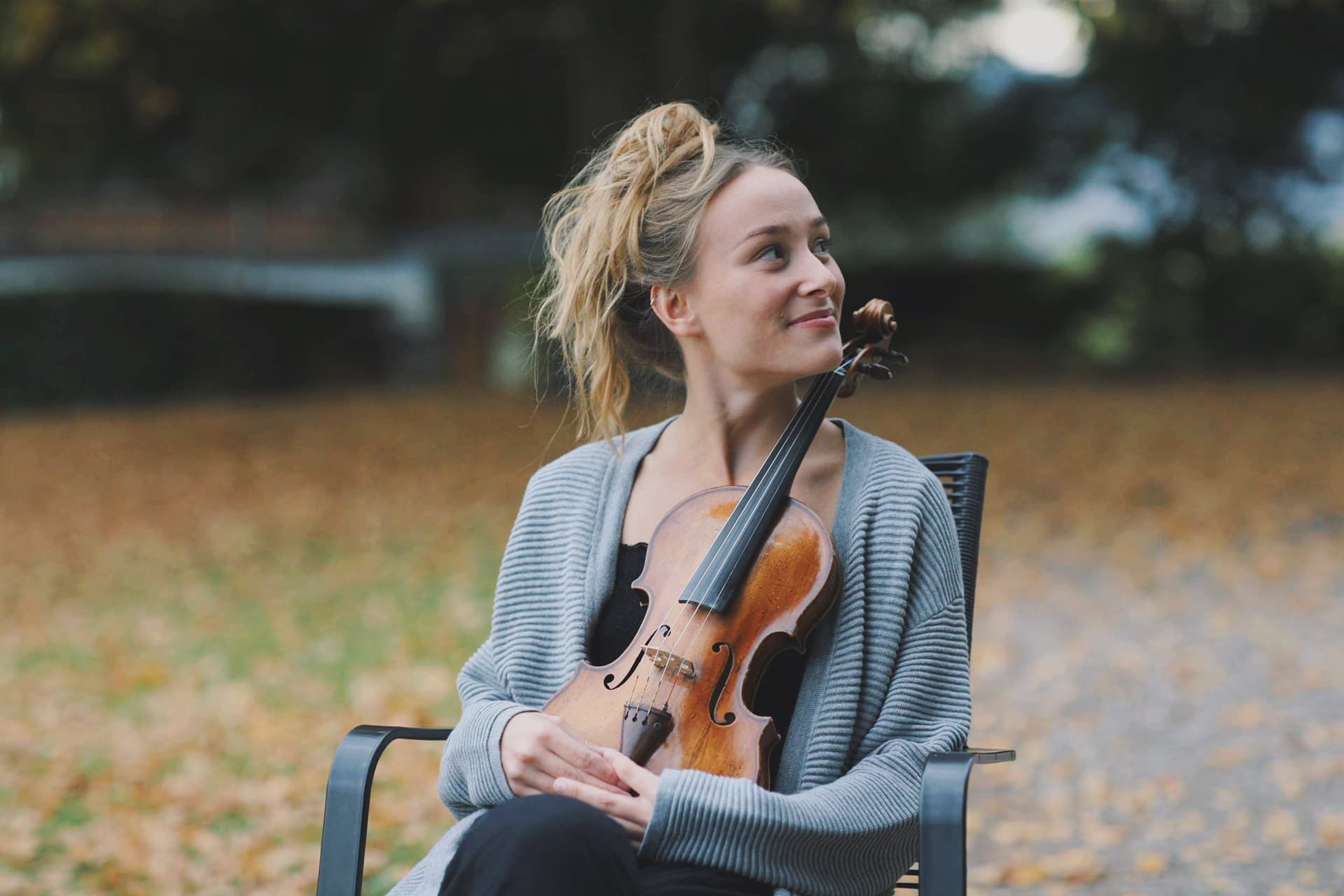 Privat foto
© Nikolaj Lund
Anna Agafia Egholm, violin & Jean-Baptiste Doulcet, piano
16. august - 19.30
Anna Agafia Egholm
Currently serving as Artist in Residence at the Queen Elisabeth Music Chapel, Danish born violinist Anna Agafia is quickly gaining international recognition as one of the most promising concert artists to emerge from Scandinavia. After having won all music competitions in Denmark, Anna moves to Switzerland and obtains her Bachelor and Soloist Master degrees at the Haute Ecole de Musique de Lausanne. During this time, the young violinist takes her first steps towards a career as an international soloist – she wins the competition Ginette Neveu in France, receives 3rd prize in the international Carl Nielsen competition, and is finally awarded 1st prize and a special prize in the Tibor Varga international violin competition.
Since then, Anna has lead the life of a soloist and chamber musician. Aside from winning even more prizes, most recently in the 1st Stuttgart international competition, she is performing in some of the most prestigious halls in the world, from Carnegie Hall in New York to the Walt Disney Hall in Los Angeles, through the Grange au Lac in Évian and the Grand théâtre in Aix-en-Provence, occasionally alongside world-renowned former prize winners..
Jean-Baptiste Doulcet
Born in 1992, Jean-Baptiste Doulcet is a pianist, improviser and composer.
He won in 2019 the 4th prize and the audience prize of the Long-Thibaud competition (presided by Martha Argerich), and the Modern Times' prize in Clara Haskil 2019 (pres. Christian Zacharias).
He is also laureate of the 2nd prize of the 8th Piano Nordic Competition and laureate of the Charles Oulmont's foundation.
Considered as one of the rising stars of french piano alongside Alexandre Kantorow and Rémi Geniet (Classica Magazine), he released his first CD (from a live concert) on Beethoven, Schumann and his own improvisations on audience's themes (Les Spiriades, 2017).
We heard him these last years in France (Paris Philharmony, Pleyel, Gaveau, Cortot, La Folle Journée, La Roque d'Anthéron, Nohant, Lisztomania...), in Denmark, United States, China, Italy, Germany... Known for his musical personality as much as a soloist than a chamber music partner (he played alongside Augustin Dumay, Marc Coppey, Hermès quartet, Jérôme Pernoo...), but also for his improvisation concerts, Jean-Baptiste is a complete artist.
After studying in Paris Conservatory (CNSMdp) with Claire Désert (piano and chamber music), Thierry Escaich and Jean-François Zygel (improvisation), he works today with great names of piano pedagogy : Julia Mustonen-Dahlkvist who follows and works with him since two years, Dmitri Bashkirov, Hortense Cartier-Bresson, Epifanio Comis, Alexey Lebedev...
As a composer, he wrote more than twenty works for soloist instruments, chamber music or larger ensemble. The Gewandhaus commissioned him a second string quartet, premiered in 2018 in Leipzig ; his Piano Trio has been played in Paris' Le Petit Palais, and artists as Jérôme Pernoo, Raphaël Pidoux from the Trio Wanderer, or Mona Quartet, are playing his works.
His Trilogy of passion for 12 cellos - from Goethe's poems - is edited and printed at Alfonce Productions.