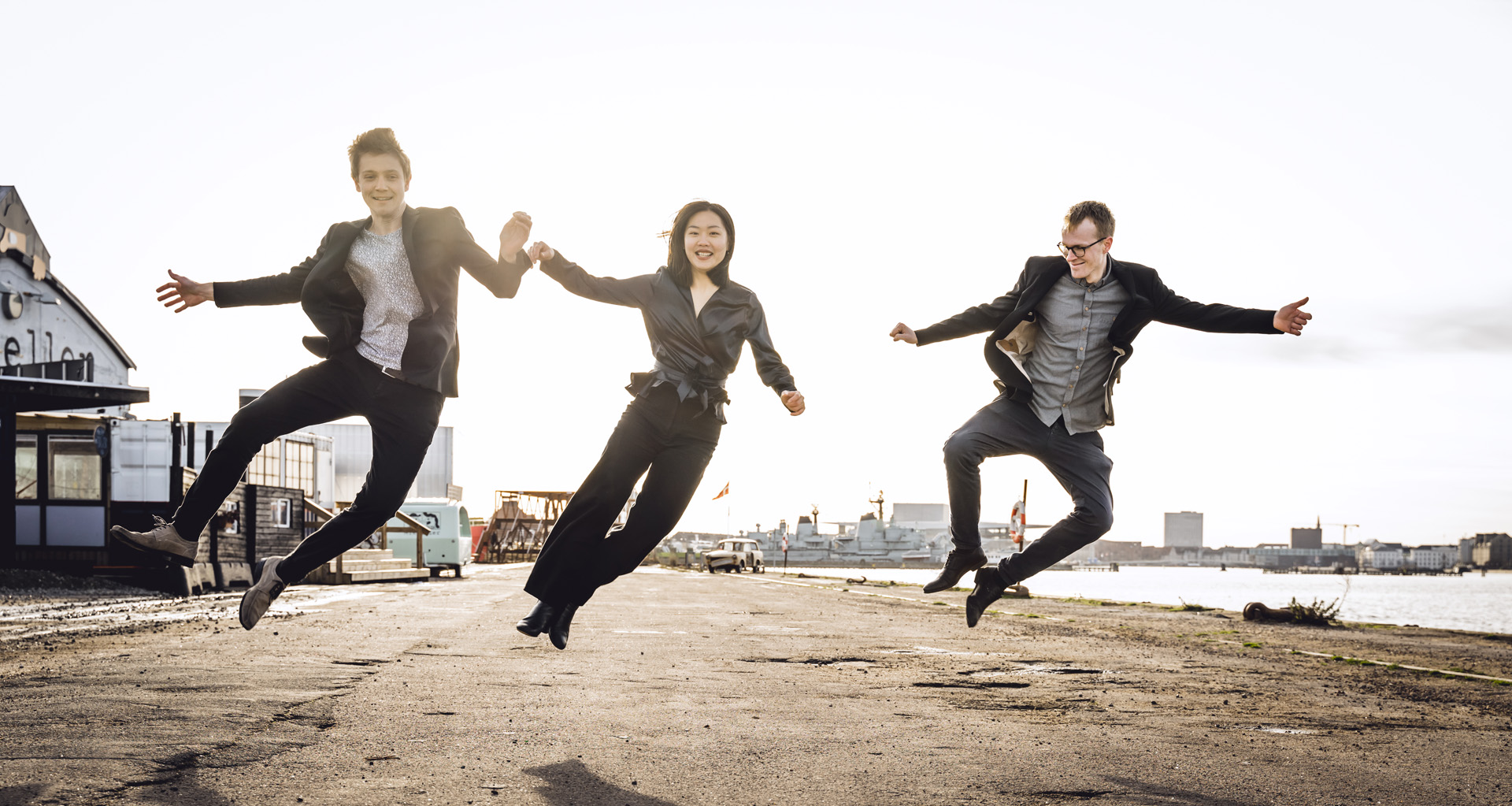 © Jonas Persson
Trio - Jonas Frølund klarinet, Lea Han klaver, Jonathan Jakshøj slagtøj
Jonas Lyskjær Frølund studied at the Royal Danish Academy of Music under the solo clarinetist of the Royal Danish Orchestra, Lee Morgan, before moving to the Paris Conservatoire to study with Pascal Moragues. Jonas occupies the Principal Clarinet chair at the Danish Entertainment Orchestra and is alternating solo clarinet in the Malmö Symphony Orchestra. He has performed with the Danish National, Aarhus and Odense Symphony Orchestras and with the Copenhagen Phil. He has played chamber music with Trio con Brio Copenhagen, Ensemble Storstrøm, the Gershwin Quartet and violinists Sergey Malov and Andrej Bielow. Jonas was a prizewinner at the Marco Fiorindo International Music Competition and at the Lacques Lancelot International Clarinet Competition. He has received a Léonie Sonning scholarship and a P2 Talent Prize from the Danish Broadcasting Corporation.
Lea Han was born in 1997 and started playing piano by the age of 6. She began her studies with Kyoto Møller, and later on with Bella Zapolski. After graduting a pre-conservatory (MGK) in 2014, she has been studying with Amalie Malling and Jens Elvekjær at the Royal Danish Academy of music in Copenhagen. She has been a regular attendant in the international masterclasses held by EPTA, where she has been taught by Eugen Indjic, Kevin Kenner and Mikhail Voskresensky.
Besides playing solo, she is a very active chamber musician, engaging in traditional as well as more modern chamber ensembles. Her diversity as a musician is also seen in her engagement with singers, with whom she went to a masterclass taught by Danish barytone Bo Skovhus and Austrian pianist Helmut Deutsch.
From a young age, she has been participating in numerous national competitions, like Berlingske Tidendes Klassiske Musikkonkurrence, where she won both 1. Prize and gold medal, and got to perform in Tivolis concert hall. She has also participated in the Danish Steinway Festival, where she won 1. Prize and the audience prize. Lastly in 2011 she won 1. Prize in "Spil for Livet", a competition held by the national radio, where she got the chance to perform with the danish radio orchestra. Through these competitions, she has played concerts all over Denmark. Later on, she has received several scholarships, like Thyra Rosa Berthold Johansens legat, Bente Calbergs legat, Kontorchef Arthur Andersen og Hustru Ellen Andersens legat, and the Copenhagen Summerfestival Talentprize.
Jonathan Jakshøj
studied as an Erasmus student at the Paris Conservatoire (CNSM) with Gilles Durot and Florent Jodelet (2017); currently at the Royal Danish Academy of Music with Gert Mortensen and Johan Bridger
performed with Ensemble Intercontemporain, the European Union Youth Orchestra, the Lucerne Festival Academy Orchestra and as a soloist with the Danish Rødovre Concert Band; currently with the Danish National Symphony Orchestra, Royal Danish Opera and Aalborg Symphony Orchestra