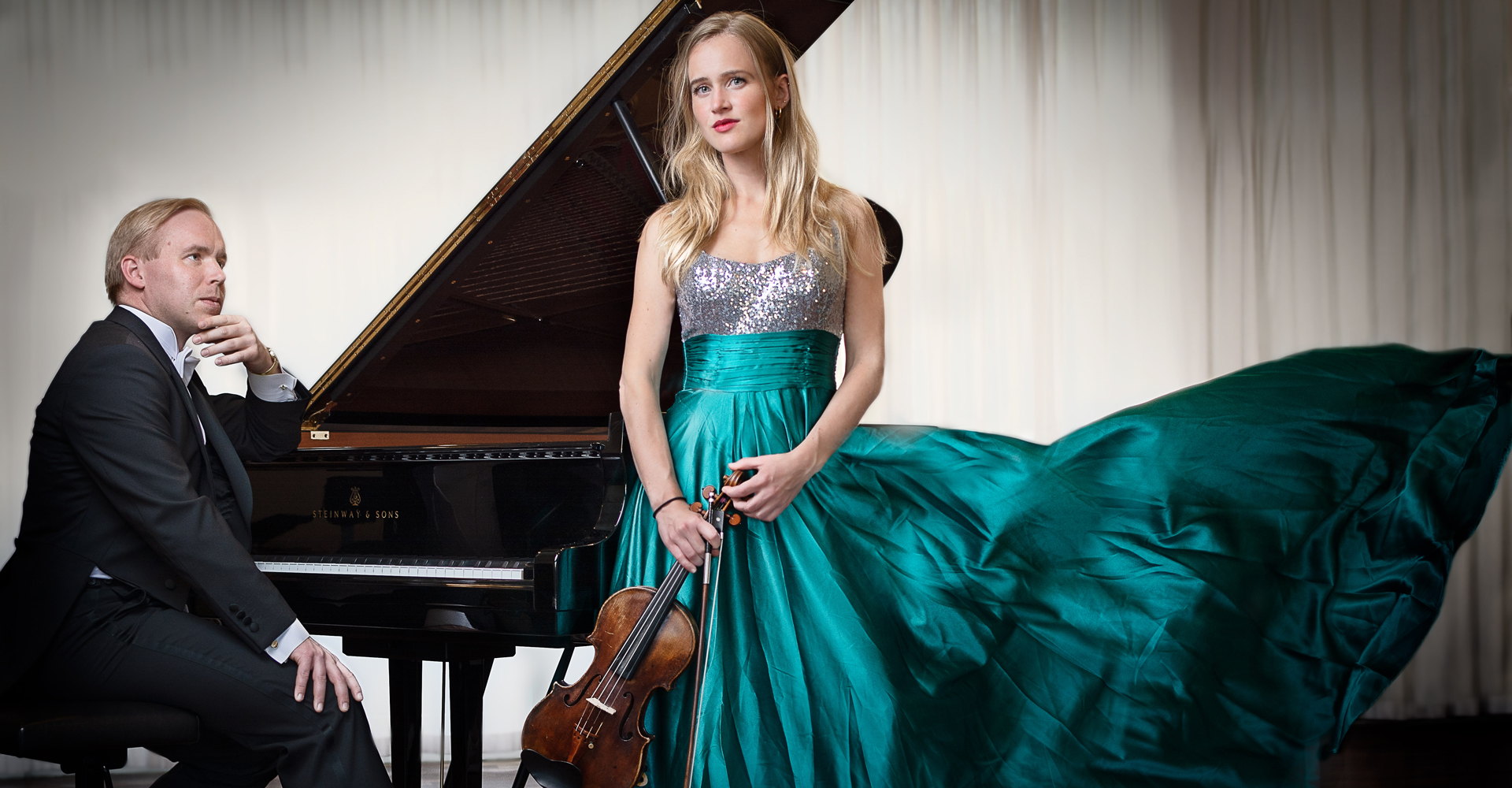 © Julia Severinsen
Benedikte Damgaard violin, Emil Gryesten klaver
Torsdag 12. august kl. 19.30
Benedikte Damgaard's passport has stamps from interesting corners of the world. Playing chamber music has a special place in her heart and it has taken her to festivals and concerts through Scandinavia, Germany, Italy, Austria, France, Czech Republic, the Netherlands, Belgium, China, Vietnam and Australia.
She has been invited to venues such as Melba Hall in Melbourne, Bergen Festival, Grand Concert Hall Hanoi, Antwerp Chamber Music, Nordens Hus Thorshavn, Holland Music Sessions, South Bohemian Chamber Music Festival, Societa Umanitaria Milan, Hindsgavl Festival, Klang Festival, Golden Days Copenhagen, Shanghai Academy Concert Hall, Tivoli Festival aso.
Being selected to be a part of the "Young Elite" program of the Danish Art Foundation, she has been encouraged to continue to expand her chamber music playing both in her homeland and outside of its boarders.
Here are a few facts about her musical life so far:
She graduated from her Post Graduate studies at the Royal Danish Academy of Music, in 2014 as a violin soloist and in 2015 as a chamber music player, after studying with Serguei Azizian, Gunnar Tagmose, Tim Frederiksen, Jens Elvekjær (Trio con Brio) and Gerhard Schulz (Alban Berg Quartet).
She won the Jacob Gade Violin Competition in 2004 and she recieved the Audience Prize of The Danish String Competition 2012. 15 years old she had her debut as a soloist with orchestra, together with Aalborg Symphony Orchestra.
In 2013 she won the Val Tidone International Chamber Music Competition with her ensemble Copenhagen Piano Quartet, in 2012 they won RDAM Chamber Music Competition. Copenhagen Piano Quartet is laureate of the Danish Radio's Chamber Music Competition in 2014 and of the International Johannes Brahms Competition in Austria 2012 and in November 2013 they were awarded 'Menzione Speciale' in Concorso de Esecuzione Musicale - Terza Edizione in Italy as the best chamber music ensemble of the competition.
Copenhagen Piano Quartet released their debut CD from Dacapo Records in 2015, featuring piano quartets by Friedrich Kuhlau, and in 2019 the second CD was released with the third Kuhlau quartet and a quartet by Otto Malling.
In 2017 she released a duo CD with music by Karol Szymanowski and Richard Strauss - played together with her duo-partner pianist Emil Gryesten.
And in 2017 she released a CD of four Mozart sonatas played together with her father John Damgaard.
Benedikte have been awarded many grants, for instance the Van Hauen Grant, Jacob Gades Grant and two times Leonie Sonning Talent Prize together with CPQ and as a soloist.
The past 1 1/2 year Benedikte was co-principal leading the 2nd violins in Iceland Symphony Orchestra.
Danish pianist Emil Gryesten Jensen has established himself as one of the important classical musicians of Scandinavia. Following victories in some of the most prominent piano competitions in the Nordic countries, such as the Hamburg Steinway Piano Competition, the Malmö-Blüthner Piano Competition, the Finnish National Piano Competition, and the Nordic Piano Competition in Nyborg, many music critics, classical music professionals, and music lovers consider him one of the foremost Danish pianists of today.
His studies took place at the Royal Academy of Music in Copenhagen, at the Sibelius Academy in Helsinki, and at the International Piano Academy Lake Como. His notable teachers include Anne Øland and Niklas Sivelöv in his native Denmark, his teachers at the Sibelius Academy, Erik Tawaststjerna and Eero Heinonen, and, at the International Piano Academy Lake Como, the American pianist and educator William Grant Naboré. Emil Gryesten continues to receive instruction and guidance at the International Piano Academy, both from William Grant Naboré, and from other members of the faculty, including Dmitri Bashkirov and Fou Ts'ong.
His early training took place at the Gradus Music Institute in Aarhus, where his teacher was the Danish pianist Martin Lysholm Jepsen.
He has been rewarded at numerous national and international piano competitions. At the age of 15 he won the first prize at the Hamburg Steinway Klavierwettbewerb, and the following year he won the Danish Steinway Competition. In 2006 he won the first prize, a Blüthner grand piano, at the Malmö-Blüthner Piano Competition in Sweden. While a student at the Sibelius Academy he won the first prize at the Finnish National Piano Competition in Jyväskylä in March 2010. Later that year he received the first prize as well as the Audience Prize at the Nordic Piano Competition in Nyborg, Denmark. He received the Danish "Sonning" award in 2007, and the Pro Musica Award of Finland in 2011.
Emil Gryesten played his first solo recital at the age of 15, and has since then performed extensively throughout Scandinavia and Eastern and Central Europe. He appeared for the first time as a soloist with orchestra at the age of 16, performing the Beethoven 3rd Piano Concerto with Aarhus Symphony Orchestra under David Riddle. He has made a number of recording productions, both studio recordings and live concerts, for the national radio stations of Denmark, Sweden, and Finland as well as for the record labels Danacord and Classico/CDKlassisk.
Emil serves as a member of the teaching faculty at the Aalborg School of Arts and at the Royal Danish Academy of Music, Copenhagen.