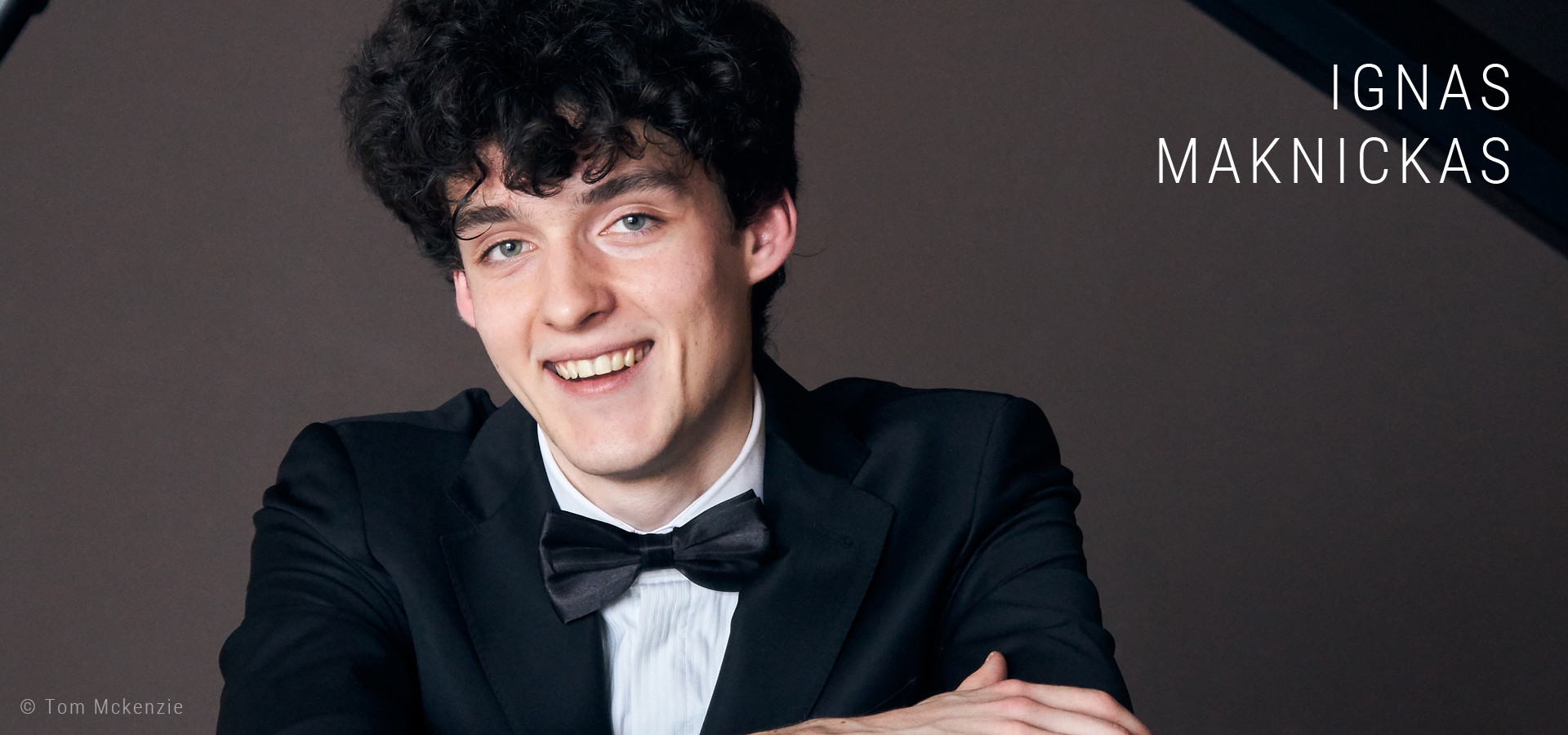 Ignas Maknickas
30th of July – 19.30
Concert Pianist
Born in California in 1998, pianist Ignas Maknickas was raised in Lithuania, in a magical world of music: a family with six children, five of whom are of an age to play instruments. They have performed as an ensemble since 2013. In May 2017 Ignas graduated from the National M.K. Čiurlionis School of Art in Vilnius, where he studied under Albina Šikšniūtė. The School-Leaving Certificate with Honours was presented to him by the President of Lithuania, H.E. Dalia Grybauskaitė. Since September 2017 Ignas has been studying with Professor Joanna MacGregor at the Royal Academy of Music, on a full scholarship.
Ignas has attended master-classes with Joaquin Achucarro, Dmitri Bashkirov, Davide Cabassi, Imogen Cooper, Pascal Devoyon, Barry Douglas, Christopher Elton, Alexei Grynyuk, Stephen Hough, Yoheved Kaplinsky, Vadim Kholodenko, Jerome Lowenthal, Pascal Nemirovski, Pavel Nersessian, Marios Papadopoulos, John Perry, Menahem Pressler, Mūza Rubackytė, Geoffrey Simon, Tamás Ungár and Ilana Vered. He was a Young Artist on full scholarship at the PianoTexas International Academy & Festival in 2016.
Ignas has appeared in Austria, Croatia, Denmark, France, Germany, Holland, Italy, Poland, Russia, the UK and the USA. He has played for the Swedish Royal Family's delegation in Vilnius and participated in such festivals as the Mozarteum Summer Academy, Oxford Piano, Schleswig-Holstein, Dartington Summer School, MusicFest Perugia, Piano Pic du Midi, St Christopher's Summer and Vilnius Piano. In 2018 Ignas had solo recitals at the Steinway Hall in London, Thomas Mann Festival in Nida and the Vaidilos Theatre in Vilnius.
Ignas has performed as soloist with the Aarhus Symphony Orchestra, Alicante Philharmonic Orchestra, Brunensis Virtuosi Opera Symphony Orchestra, Dartington Symphony Orchestra, Kaunas Symphony Orchestra, Lithuanian National Symphony Orchestra, Lithuanian State Symphony Orchestra, National M. K. Čiurlionis School of Arts Symphony Orchestra, Lithuanian Chamber Orchestra, St Christopher Chamber Orchestra, and Klaipėda Chamber Orchestra. In September 2018 Ignas performed in London Mozart's Piano Concerto No. 23 in A major, with the London Mozart Players under Maestro Geoffrey Simon.
Early appearances—with the Lithuanian State Symphony Orchestra at age 9, at the Paris Cercle de l'Union Interalliée at 11 and at the Louvre Auditorium at 15—caused Ignas to witness the huge power of music to bridge cultural and national borders. As a young musician he saw how music can be a source of great joy and inspiration, and how it can be employed towards lofty goals. He regularly performs with prominent Lithuanian musicians in nationally televised charity concerts presented to help the disadvantaged. These occasions have had a strong impact upon him.
Ignas has taken 1st Prize at the XIX International Fryderyk Chopin Piano Competition for Youth in Szafarnia, 1st Prize at the XX International Piano Competition "Young Virtuoso" in Zagreb, and 3rd Prize and Audience Prize at the International Piano Competition in Enschede. Most recently he has won a silver medal in the Manhattan International Music Competition, Harold Samuel Prize in the Harriet Cohen Bach Competition at the Royal Academy of Music, was a semi-finalist at the 2017 Young Concert Artists Auditions in New York City and won 3rd Prize at the Aarhus International Piano Competition 2019.
Honours include two "Letters of Appreciation" from the President of Lithuania and the "Little St Christopher's Award" from the City of Vilnius, for Ignas's contributions to making Lithuania's capital great. From 2009 to 2017 Ignas has been assisted by the Mstislav Rostropovich Foundation. Since 2016 he has been an Artist of the Arts Global Foundation. Ignas is also a recipient of the Molyneaux Prize awarded at the Royal Academy of Music in 2018, and an ABRSM Scholarship Award by the Associated Board of the Royal Schools of Music in 2019.